Prestigious Dental Clinic in Ho Chi Minh City: Best Dentist, Affordability cost, Good Reviews
International patients choose to have dental treatments at a prestigious dental clinic in Ho Chi Minh City that is ranked the highest in the region, in order to receive treatment from the best dentists, at a reasonable cost, and experience successful dental procedures like dental treatments in their home country.
Saigon Center Dental Clinic – A reputable dental clinic in HCMC with over 10 years of experience in treating international patients.
Saigon Center Dental Clinic is renowned as a specialized center for Dental and Maxillofacial services in Ho Chi Minh City. The clinic has been operating in the field of dentistry for over 10 years, licensed by the Department of Health with the license number 09542/HCM-GPHĐ, and trusted by numerous patients both domestically and internationally.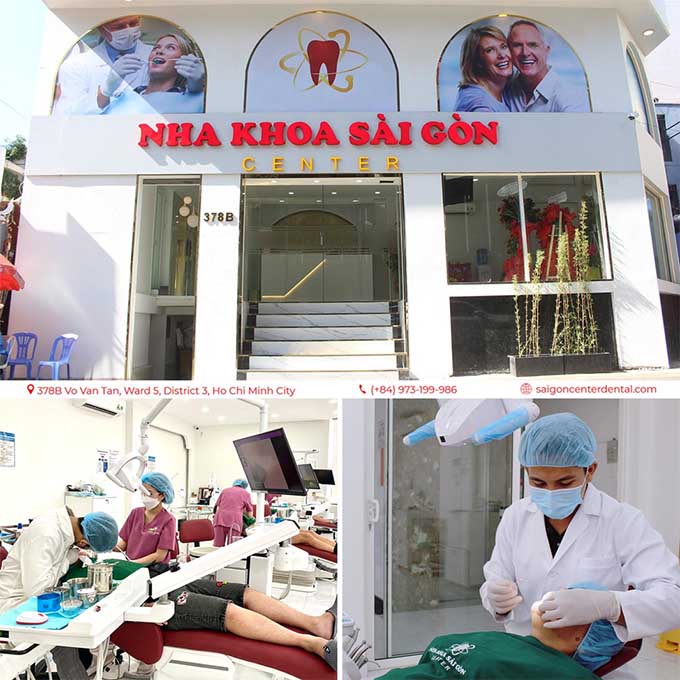 The dental clinic gathers a team of well-qualified dentists who graduated from prestigious universities in Medicine, holding reputable international dental implant certifications such as:
Minimally invasive approach for full arch fixed implants Course
Professional Implant Advanced Course of OSSTEM AIC
In Recognition of your outstanding knowledge and skills in the advanced educational course and clinical training of Minimally invasive Implantology
Therefore, in terms of expertise, international patients can completely trust in receiving treatment here. The implantation process is performed by experts who possess deep knowledge of implant techniques and a solid understanding of the implantation process.
An exemplary dentist is Dr. Nguyen Ngoc Tan, an expert in All On X/ProActive technique – a quick full arch implantation within 48 hours with a painless and rapid healing method. Many patients who have undergone tooth implantation with Dr. Nguyen Ngoc Tan have rated their experience as gentle, allowing easy eating and no pain when fitting new teeth.
International patients can refer to some successful cases of treatment by Dr. Nguyen Ngoc Tan.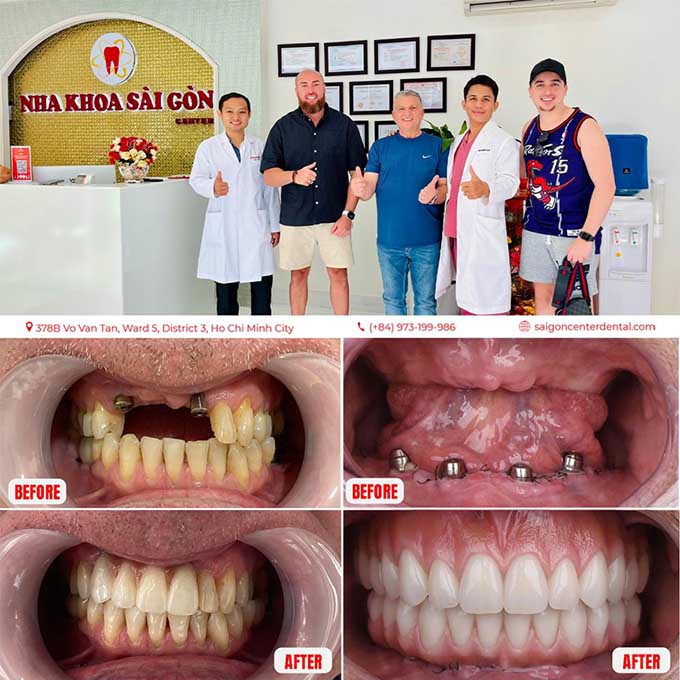 When visiting the clinic for dental examination, patients are welcomed with dedication and professionalism. The staff, receptionists, and doctors have fluent English communication skills, allowing patients to comfortably interact and exchange information easily. Information is conveyed fully and clearly, from the counseling process to post-treatment instructions.
5-star quality dental clinic according to international standards
The clinic's reputation is enhanced by investing in modern dental facilities with 100% imported machines and equipment such as Scanora X-ray System, Piezotome Ultrasonic Bone Surgery System, LSBL high-frequency surgical equipment, etc. Dental products and materials used for treatment adhere to the standards of ADA, GMP, ensuring the safety and well-being of patients are prioritized.
For dental implant services, the treatment process complies with quality standards and ensures effectiveness in dental implant surgery according to ICOI (International Congress of Oral Implantologists). Particularly, patients' personal and medical information is confidential according to HIPAA law.
The dental clinic is equipped with modern amenities to serve patients during their dental visits, including clean waiting rooms with advanced cooling systems, WiFi, car parking, appointment reminders, etc. The commitment is to provide a premium dental service experience, equivalent to 5-star standards, similar to dental treatments in the United States, Australia, and Canada.
Transparent pricing at a reputable dental clinic in Ho Chi Minh City
The clinic provides a wide range of dental services, including dental fillings, teeth whitening, wisdom teeth extraction, as well as services such as dental implant placement, dental crown, and porcelain veneers on implants, at reasonable and transparent prices.
The clinic evaluates the costs based on specific conditions and offers the most suitable options within the patient's budget. They provide discounts of up to 50% on the percentage of costs while ensuring that the quality of services is not compromised.
he clinic openly displays the price list of services on their website saigoncenterdental.com and informs patients in advance during consultations and prior to treatment. Below is a price list of some key services at the dental clinic for patients' reference.
| | | |
| --- | --- | --- |
| DENTAL SERVICES | UNIT | PRICE (USD) |
| Single Implant (Dentium, C-Tech, Superline, Neodent, Straumann) | 1 tooth | 620 – 1400 |
| ALL ON 4 Implant | 1 arch | 5300 – 7000 |
| ALL ON 6 Implant | 1 arch | 6600 – 8300 |
| Zygomatic Implants – "All on 4", full arch, fixed bridge | 1 arch | 13.000 |
| Porcelain Crown | 1 tooth | 60 – 430 |
| Porcelain Veneer | 1 tooth | 300 – 450 |
| Teeth Whitening | 1 case | 130 |
| Metal Brace | 1 case | 700 – 4000 |
| Invisalign | 1 case | 3.000 – 4500 |
| Wisdom tooth | 1 tooth | 50 – 150 |
| Root Canal | 1 tooth | 145 – 65 |
| Dental Filling | 1 tooth | 15 – 50 |
Consultation and Treatment Process at Saigon Center Dental Clinic for International Patients
To save time and have control over their dental appointments, international patients can contact the clinic for online consultations and appointment scheduling through channels such as:
The initial consultation visit typically takes about 30 minutes. The cost for consultation and dental X-rays is 0 VND (Free). The treatment process and the number of dental visits will vary depending on the specific service the customer undergoes. On average, it may take 2-3 appointments to complete services like dental implant placement or cosmetic dentistry. General dental services usually require only one appointment to complete.
Here is the process for immediate temporary tooth implant restoration within 48 hours, which has attracted the attention of many patients at the dental clinic:
Appointment 1: Consultation at the clinic – Dental Implant Placement
The patient undergoes a clinical examination, dental X-rays, and receives analysis from the dentist, along with treatment plans.
Implant placement is performed (if the patient is eligible for the procedure).
Impressions are taken for the fabrication of porcelain crowns on the implants.
Temporary teeth are placed on the implants to assist with chewing.
Appointment 2: Porcelain Crown Restoration on Implants after approximately 3 months
Follow-up visit to check the integration of the implants into the jawbone.
Placement of porcelain crowns for complete restoration on the implants.
Customer Reviews
Saigon Center Dental Clinic has been recommended on specialized platforms such as Whatclinic, WorlClinic, Dental Departure, with a high rating and score of 4.9/5 stars. Many international patients who have undergone treatment here have praised the skill of the dentists, the convenience, comfort, and facilities at the clinic.
These positive reviews are a testament to the clinic's commitment to providing the best dental services for international customers. For a more objective assessment, patients can refer to the following content.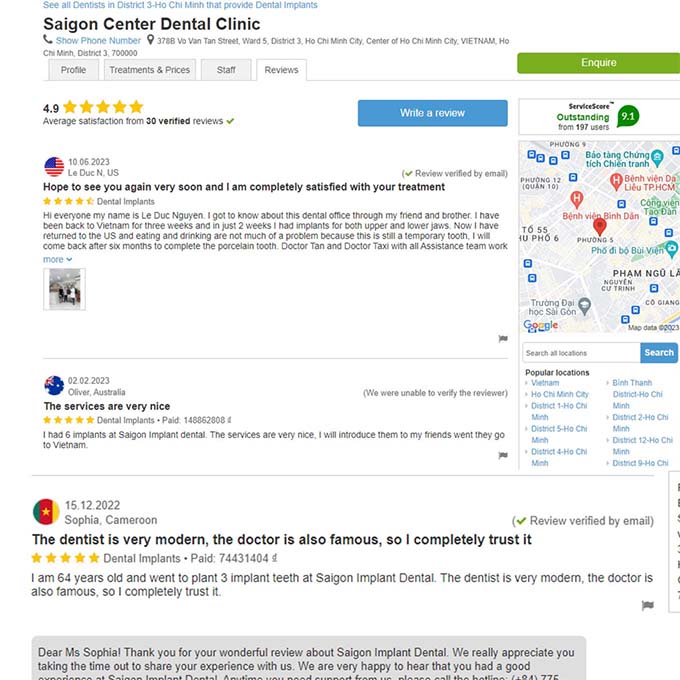 Directions to Saigon Center Dental Clinic
The clinic is located in the center of Ho Chi Minh City, near Turtle Lake. International patients can travel to the clinic using personal transportation or contact the dental clinic directly for pick-up services from their hotel.
Here are some distances and travel times from various locations to the clinic for patients' reference.
Sheraton Hotel, District 1 – Saigon Center Dental Clinic: 11 mins – 2,7 km
The Luxe Hotel, District 1 – Saigon Center Dental Clinic: 10 mins – 2,2 km
Ben Thanh Market – Saigon Center Dental Clinic: 9 mins – 1,9 km
Language Exchange Hotel, District 3 – Saigon Center Dental Clinic: 2 mins – 60m
Tan Son Nhat Airport – Saigon Center Dental Clinic: 26 mins – 7,4 km
Saigon Center Dental Clinic operates daily from 8 AM to 6 PM, and online consultations are available at any time. Contact us now to meet with a doctor for direct consultation!
Contact information